Writing your own bio in the third person feels pretty awkward. Plus, I'd like for us to be friends, so let me start by saying hi! Desire Lines Wine Co. is the wine brand created mostly by my husband Cody and partly by me too.
Here's the story.
We met in third grade but waited until the mature age of 16 before starting a serious relationship. The only alcohol in our lives was in church communion until Cody's sophomore year in college, when he tasted a couple dessert wines on a three-week Econ trip to Cape Town, South Africa.
After high school, I (Emily) stayed in our hometown, studying English and a bunch of other languages at Northwestern College, the local private college. Meanwhile, Cody studied Political Science and Economics at Williams College in Massachusetts. Junior year, Cody studied abroad in Rome in the fall; I studied abroad at Oxford in the spring. Like two over-achievingly studious ships that pass in the night. Cody wandered the streets of Rome, making his way through the most delicious pizzas and gelato. "Wine is cheaper than water," he told me in a text that I thought surely meant we had found that the road to hell is paved with wine carafes.
We made it to senior year, getting engaged along the way. Cody traded down to the smallest meal plan in college, preferring to spend his dollars on wine while dining on ramen, mac n cheese and frozen pizza. He bought a few wine books and devoured them instead as he tasted as many of the World Atlas of Wine's featured wines as possible. Not one to ignore the benefits of a degree in the soft sciences, he wrote his senior poli sci thesis on terroir and its cultural implications – "the vinous embodiment of a time and a place, imbued with culture."
Somewhere along the lines, we realized our after-graduation plans to be suit-and-tie businesspersons wasn't giving us the starry eyes we hoped for. We started looking for jobs – any jobs – in wine country, and Cody applied to every winery in the Russian River, Dry Creek and Alexander Valley AVAs. A few replied. A few complimented him on his cover letter but said they couldn't hire someone with no experience. One winemaker, Anthony Beckman from Balletto Vineyards in Sebastopol, hired him for harvest 2011. It was his way of paying it forward from the first person who hired him when he had no experience.
We got married in June of 2011 and moved to Sonoma two months later, started new jobs and fell in love with the wine industry in the head-over-heels way only naïve Midwesterners can. After wrapping up that first harvest, we added to our family the first of our two adorable-yet-mischievous golden retrievers, Kinley—whose cuteness as a 10-week-old puppy helped Cody get his second harvest job at Patz & Hall in 2012.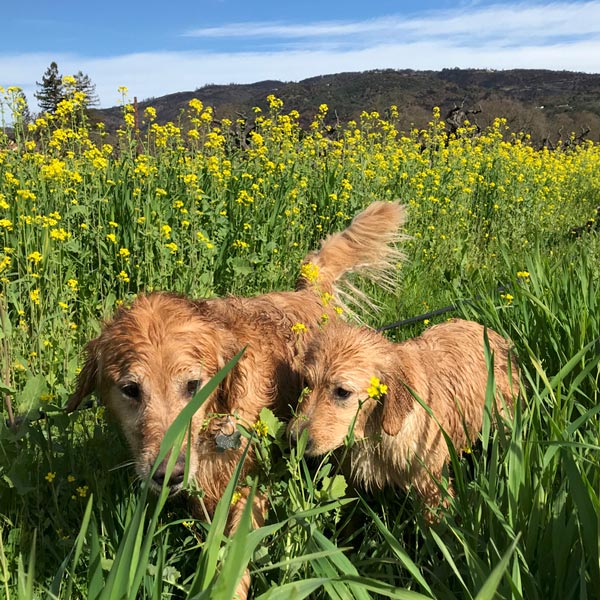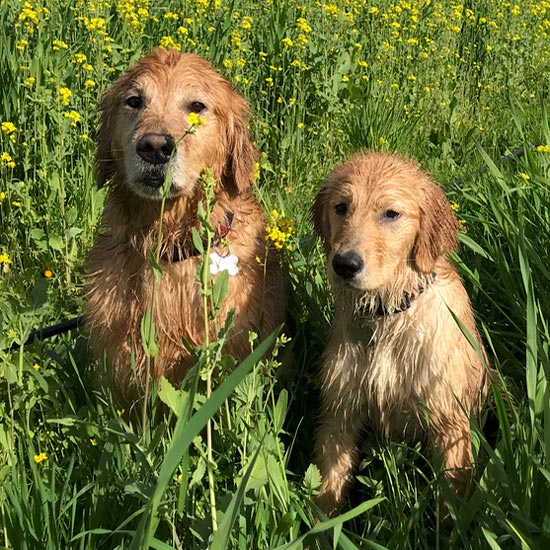 In 2013, Cody started as Assistant Winemaker at Bedrock Wine Co. And it was destiny. Well, maybe that's overly dramatic. But Cody was a learning machine, studying the ins and outs of winery work. In harvest of 2015 (we measure time in harvests…), we found out that a row of Syrah at Griffin's Lair Vineyard would be available. Cody's patron saint-slash-boss Morgan made it possible for us to buy our first one ton of pristine, beautiful, delicious Syrah grapes, and Desire Lines Wine Co. began (though we didn't know its name yet).
Almost three years later, we officially launched Desire Lines Wines.
Sincerely,
Emily Rasmussen