A desire line is a path made by the one walking it. It's often a path that diverts from the main trail, whether through an empty field to get from one street to another or a straight line up a mountain made by someone too impatient for switchbacks.
We—Cody and Emily Rasmussen— made California our home in 2011, three months after graduating college and two months after getting married. We made the first wine of our very own in 2014, and so began Desire Lines Wine Co.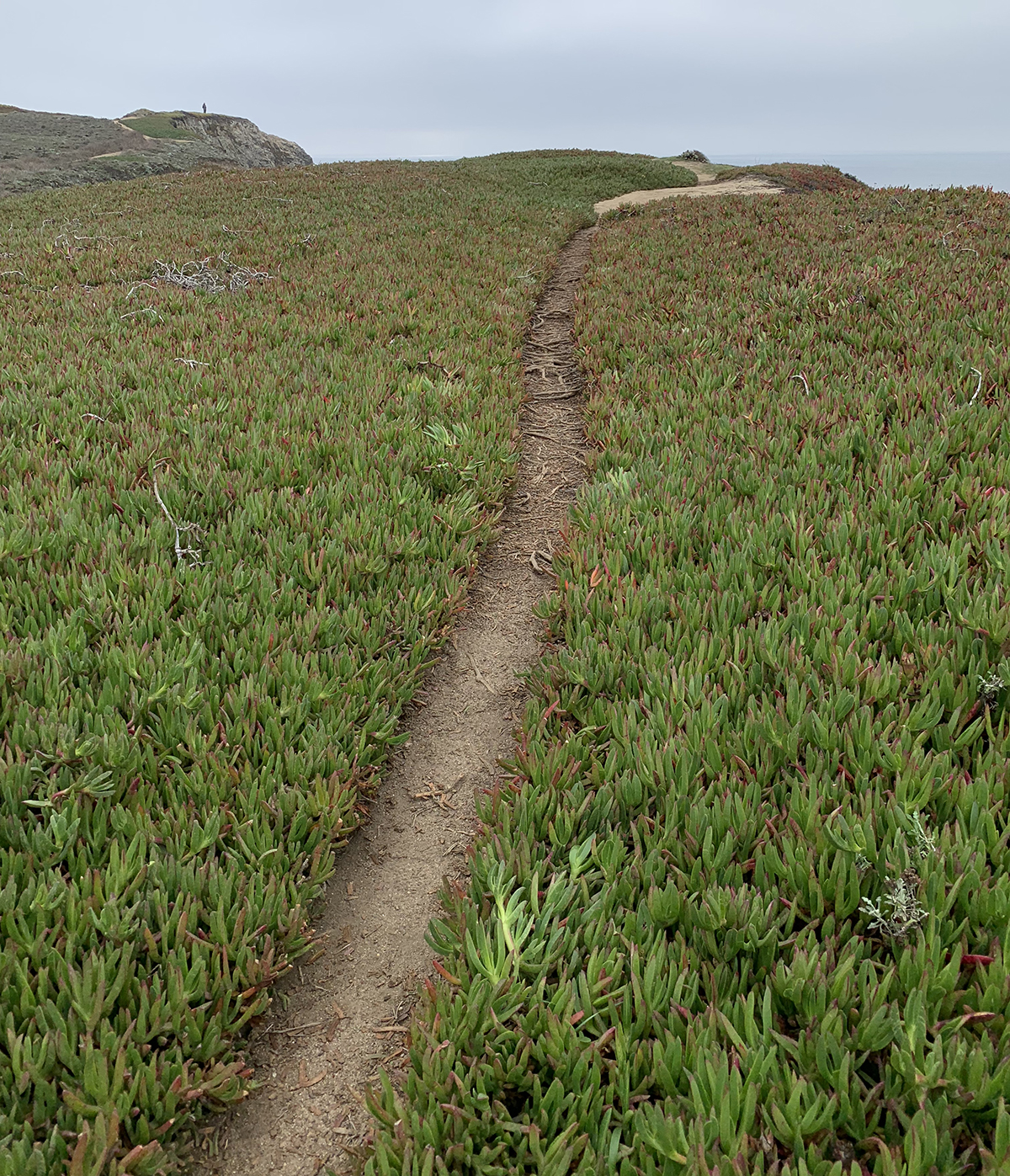 Our winemaking path is guided by our vineyard sources, spanning 400+ miles across the expanse of Northern California. We go wherever a fascinating vineyard hooks us in and inspires us – these are sites that produce vibrant and singular wines that speak compellingly of place and time. From Riesling in the single-vineyard Cole Ranch AVA to 1890s-planted vines in Contra Costa County, our vineyards are the most important part of our wines: so much so that our labels feature the vineyard name as the largest text on the bottle along with a hand-drawn illustration of the vineyard.
Desire Lines wines are inspired by pioneering California winemakers and their coming-of-age wines from the 1970s and 80s – Cody describes this philosophy as "neo-classical" though Emily maintains that isn't a sensible way to describe winemaking. What this looks like in the cellar is native yeast fermentations, lots of whole-cluster use in many of our reds, barrel fermentation for our whites, and aging in primarily neutral oak and large format barrels.
It's a great joy to be able to share these wines with others, like crossing paths on a trail and getting to chat for a minute about how great the view is from here.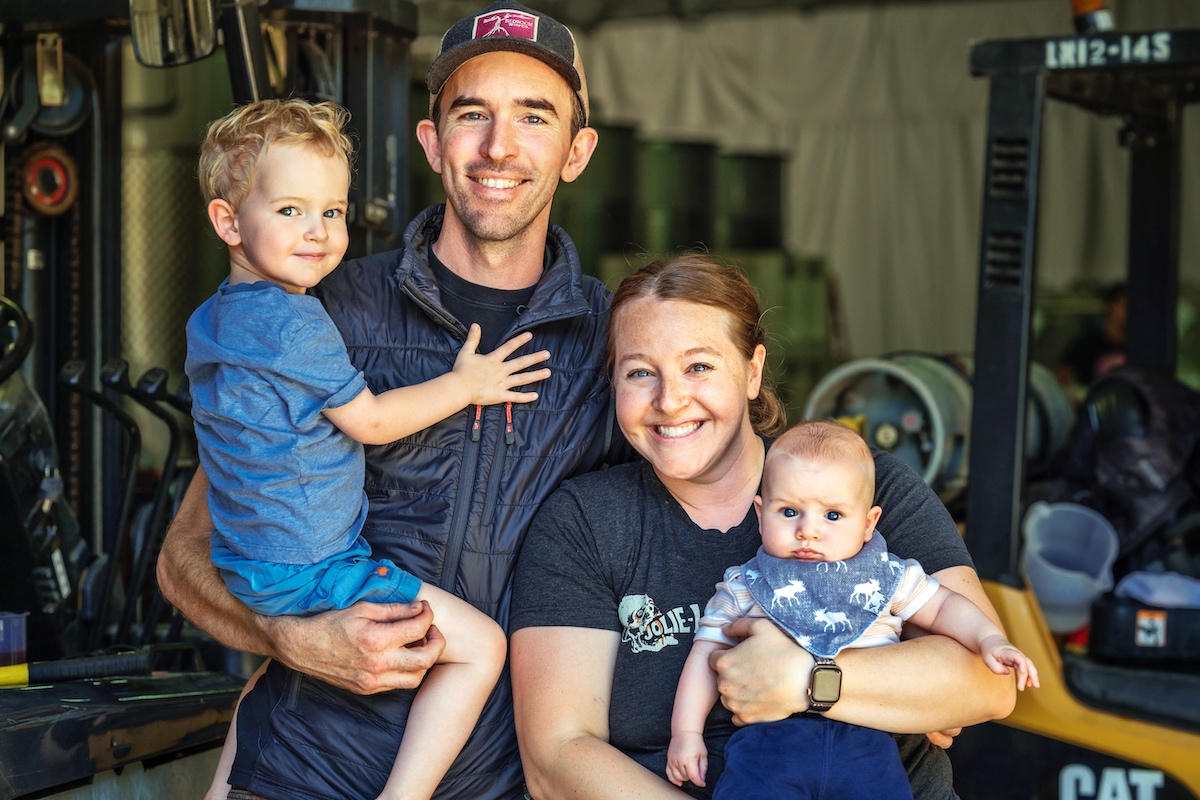 How we got here, as told by Emily.
Writing your own bio in the third person feels pretty awkward. Plus, I'd like for us to be friends, so let me start by saying hi! As you know by now, Desire Lines Wine Co. is the wine brand created mostly by Cody and partly by me too. But I'm getting ahead of myself…
Cody and I met in the second grade in the town of Orange City, Iowa, but waited until the mature age of 16 before starting a serious relationship. The only alcohol in our lives was in church communion until Cody's sophomore year in college, when he tasted a couple wines on a three-week Economics study abroad in Cape Town, South Africa. His subsequent semester in Rome bolstered his interest in wine. "Wine is cheaper than water," he told me in a text that I thought surely meant that the road to hell is paved with wine carafes.
Cody studied Economics and Political Science at Williams College in Massachusetts while I studied Literature and Spanish at Northwestern College in our hometown. Senior year, as we polished off the last year of our long-distance relationship, Cody traded down to the smallest meal plan, preferring to spend his dollars on wine while dining on ramen noodles, macaroni and cheese, and frozen pizza. He bought a few wine books and devoured them instead as he tasted as many of the World Atlas of Wine's featured wines as possible. Not one to ignore the benefits of a degree in the soft sciences, he wrote his senior thesis on wine and terroir – "the vinous embodiment of a time and a place, imbued with culture."
Somewhere along the line, we realized our after-graduation plans to be suit-and-tie businesspersons wasn't giving us the starry eyes we hoped for. Like wandering hikers disregarding all warning signs and veering off the main trail to bushwhack through the woods, we started looking for jobs in Sonoma County. Cody applied to every winery in the Russian River, Dry Creek and Alexander Valley AVAs. A few replied. A few complimented him on his cover letter but said they couldn't hire someone with no experience. One winemaker, Anthony Beckman from Balletto Vineyards in Sebastopol, hired him for harvest 2011. It was his way of paying it forward from the first person who hired him when he had no experience.
We got married in June of 2011 and moved to Sonoma two months later, started our new jobs and fell in love with the wine industry in the head-over-heels way only bright-eyed Midwesterners can.
In 2013, Cody started as Assistant Winemaker at Bedrock Wine Co. And it was destiny. Well, maybe that's overly dramatic. But Cody was a learning machine, studying the ins and outs of winery work under the mentorship of Morgan Twain-Peterson. Two years later with one ton of Syrah from Griffin's Lair Vineyard, Desire Lines Wine Co. began.
We live in Sonoma with our two sons, Caleb and Drew, and two golden retrievers, Kinley and Maya.